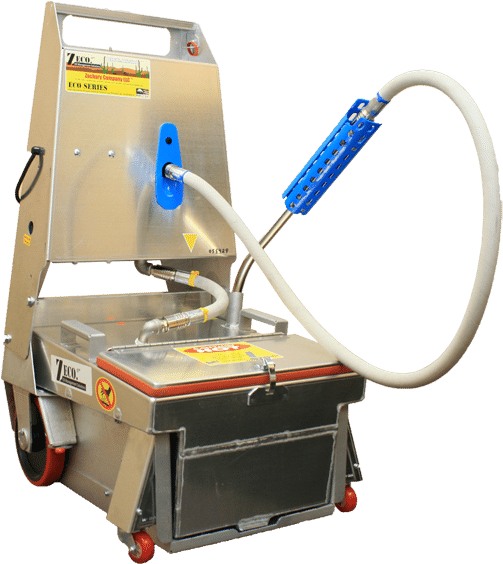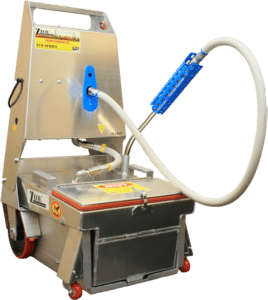 Take Total Control of your Oil Management

No More Excess Plastic Containers

Easy Storage of New Oil as well as Waste Oil

SK Oil Sales offers a wide range of cooking oil collection tanks that can be used to store used cooking oil until it is picked up.
When you work with us to have your old cooking oil picked up and recycled, we'll come and empty the tanks when they are full.
CALL or

CONTACT US

 for a Demo of our Filtration System and to See How it Operates with our Bulk Oil Program!
INTERIOR - Tank System with Remote Fill & Drain
Our interior cooking oil system is the perfect way to protect your cooking oil from grease theft and contamination! They provide an easy way for your employees to dispose of their waste with comfort and safety, saving on workers comp claims. Plus they keep your kitchen secure, even if you need to operate it on a 24-hour basis.
INTERIOR - Tank System with Remote Fill & Drain Features
Easy to use, keeps area clean and odorless.
Remote fill – No need for jugs and eliminates residual oil left in jugs.
Remote drain – Easy & Safe to use with the Zeco® filtration machine and eliminates the use of dumping waste oil in pots.
Exterior remote fill & drain will not interfere with kitchen operations. (Note: Punch ticket will be provided as proof of delivery.)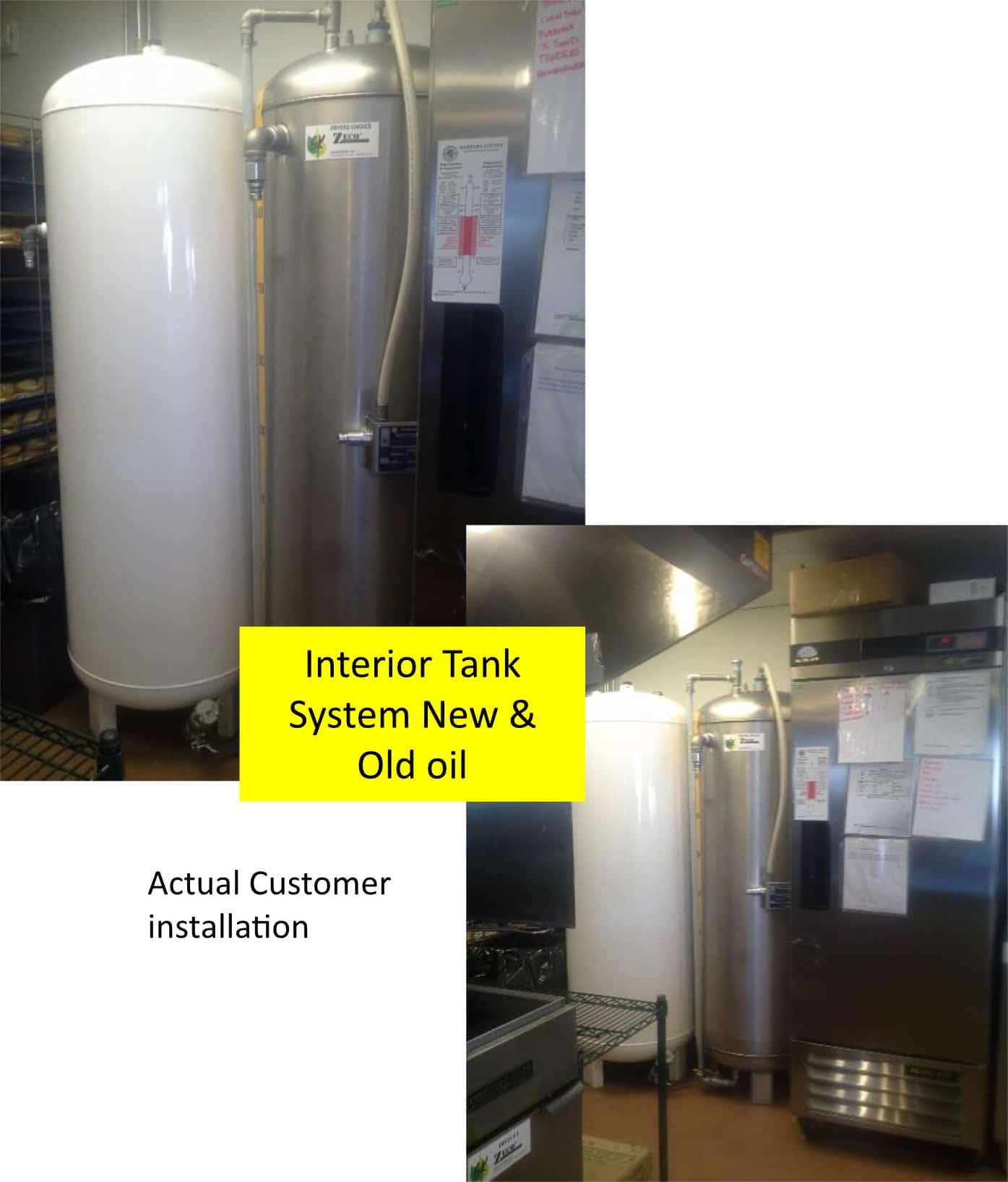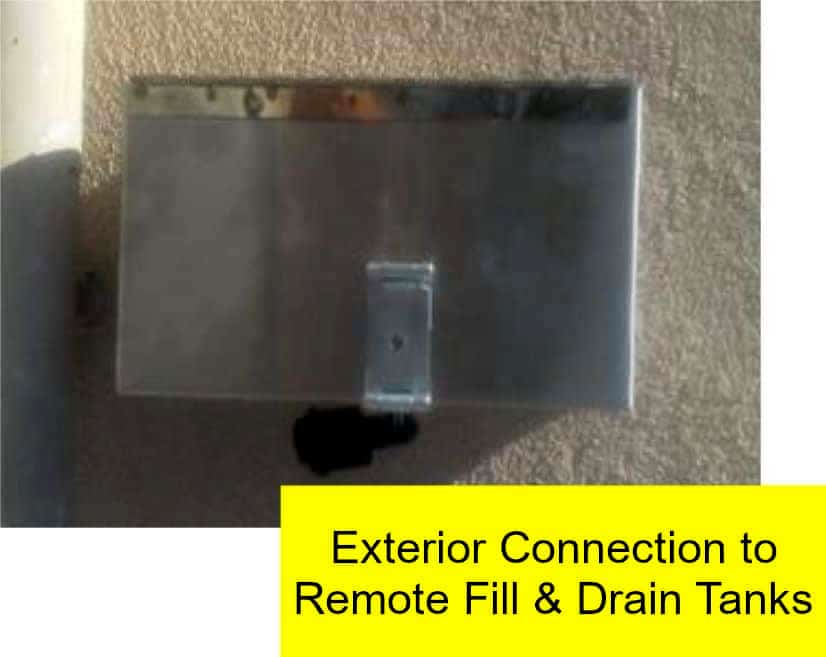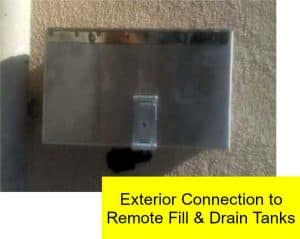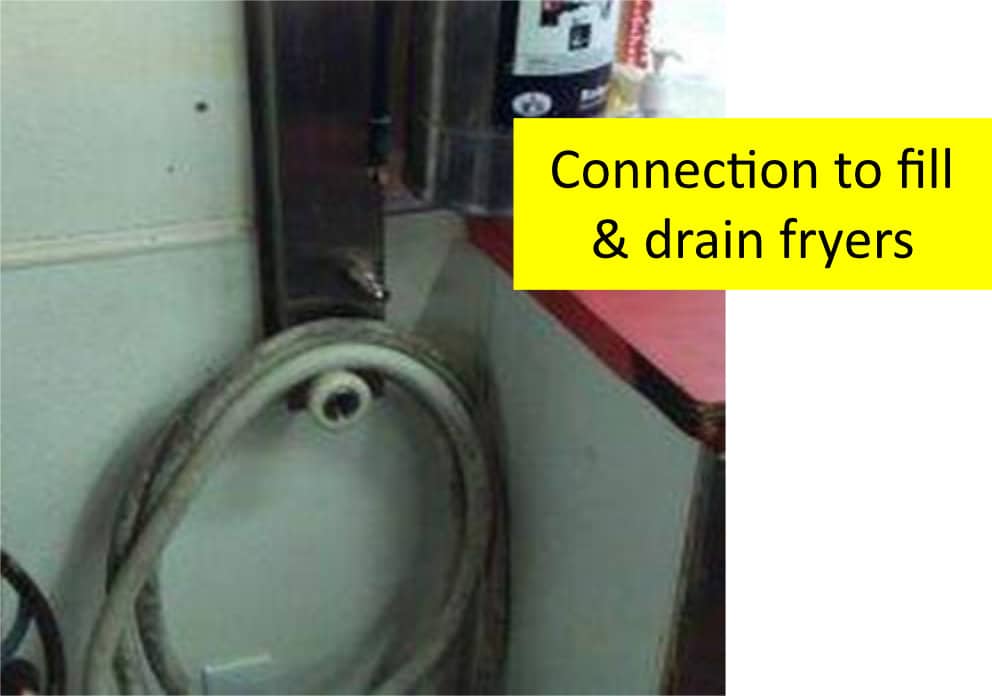 EXTERIOR – Dual Connections w/ Remote Fill & Drain
Commercial kitchens need cooking oil to fry food. When food service establishments use cooking oil it is important that the oil is handled properly from the time it arrives to when it is picked up for recycling after use. If the oil is mishandled at any stage, there will be a risk of spills that can cause burns and injuries and harm the environment.
Our exterior cooking oil system will help protect your used cooking oil from grease theft and contamination. Our system will help protect your employees from burns, slips, and falls.  Plus it can help protect your kitchen - no need to open the back door and the kitchen operates more efficiently.
EXTERIOR – Dual Connections w/ Remote Fill & Drain Features
Tanks are placed outside enclosed in custom sheds to reduce odors.
Dual connection areas used for easy use when fryers are far apart from each other.
Safety timer used for New oil to avoid spills and overflows.
Reduces jug oil residual waste, oil jug waste, heavy lifting, hot oil spills & burns.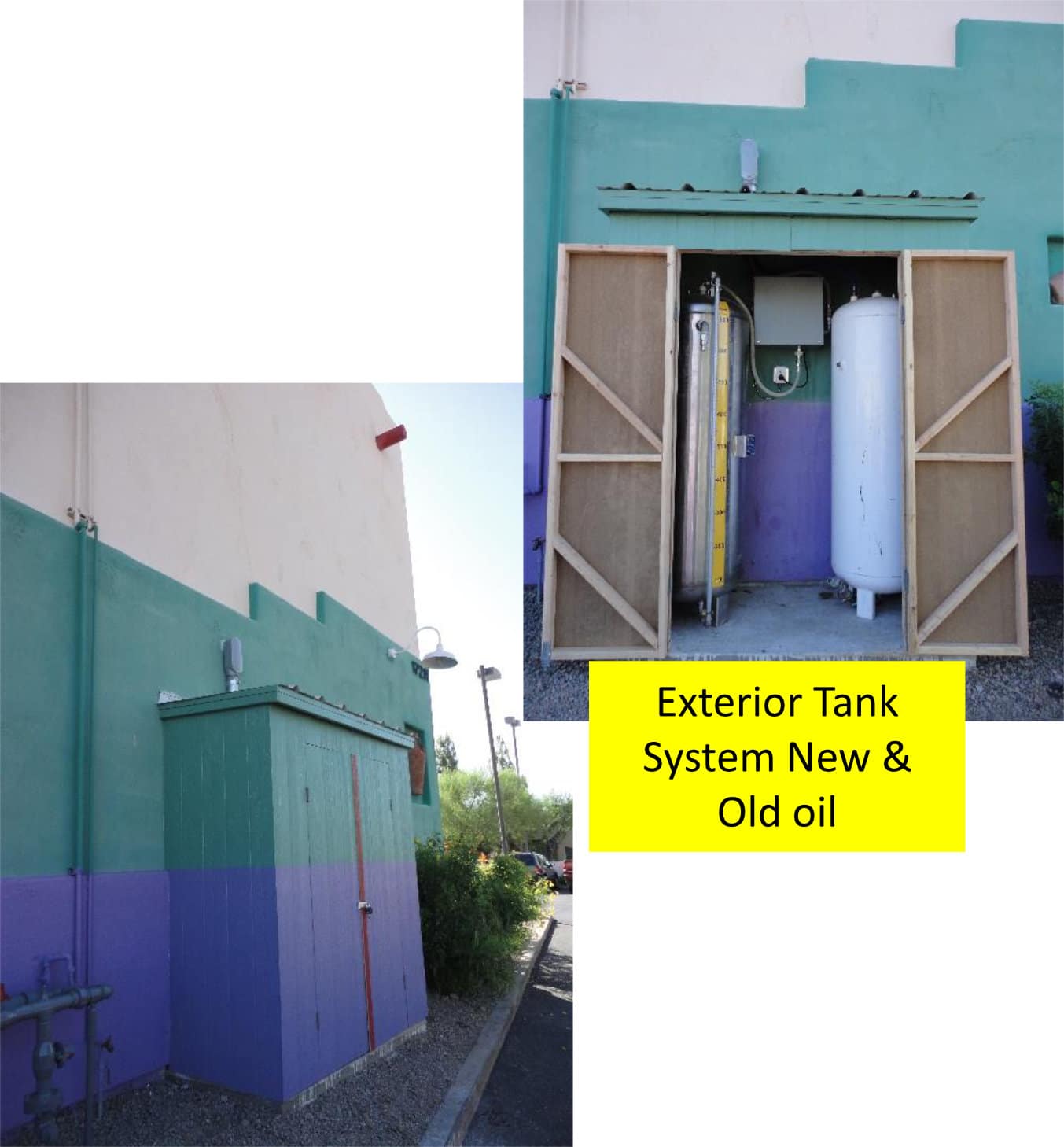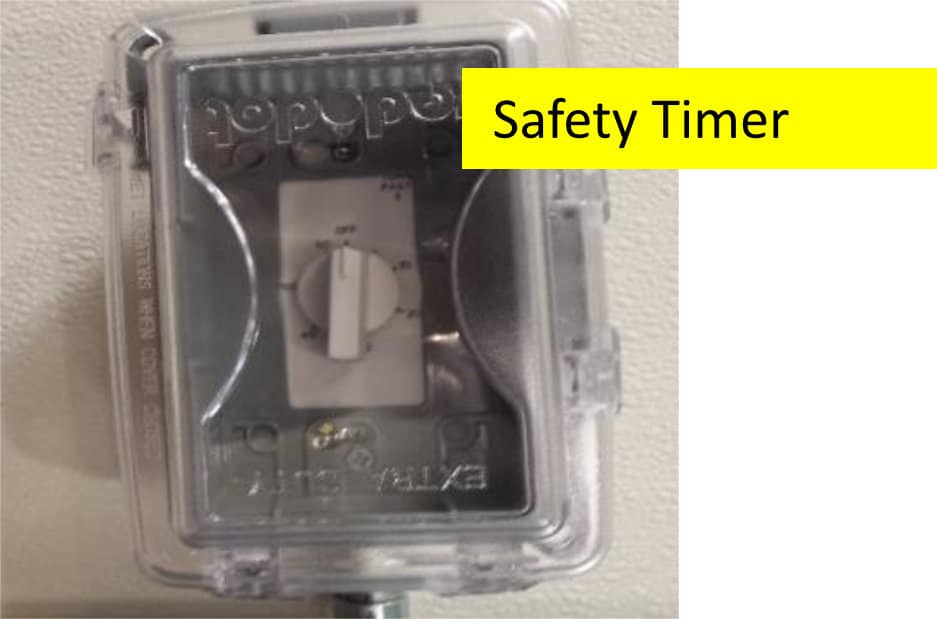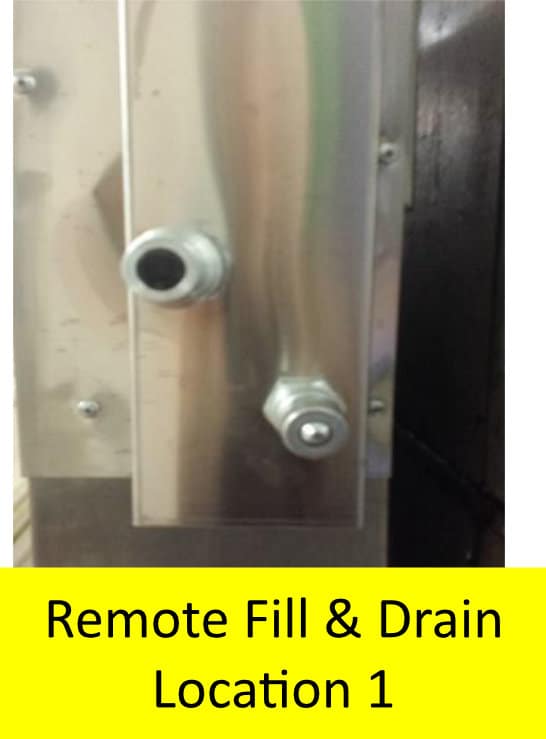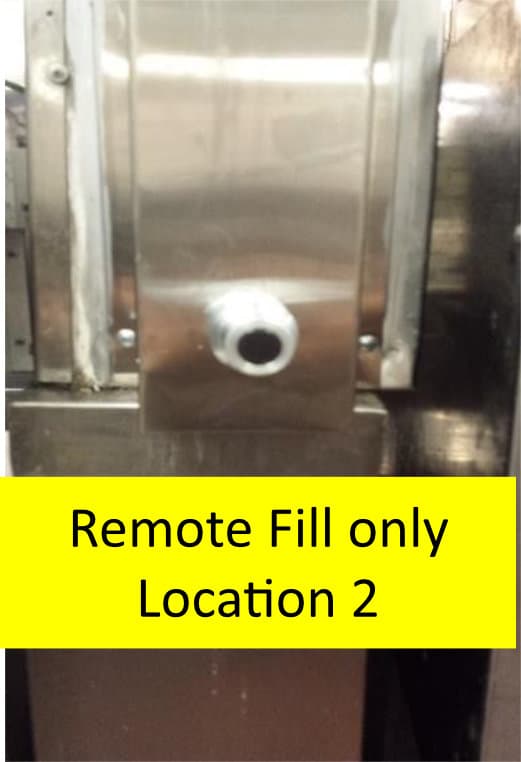 Drainage is a very important item to consider with any commercial kitchen. Drains need to be installed in the correct location and size for the intended purpose. Effective drainage is critical to deterring bacteria growth from pooling liquids and other food debris, which can lead to poor hygiene standards that would eventually shut down a restaurant.
Drain & Fill Connections Features
Racks can be placed in different areas or side by side.
Eliminates box oil and residual waste.
Remote fill is easy and safe to use eliminates the use of carrying heavy #35 oil jugs & storage space.
Remote drain by fryers using the Zeco® Filtration machine will reduce hot oil spills when draining fryers and nasty oil smells.
Racks comes in several sizes to accommodate your kitchen layout and size.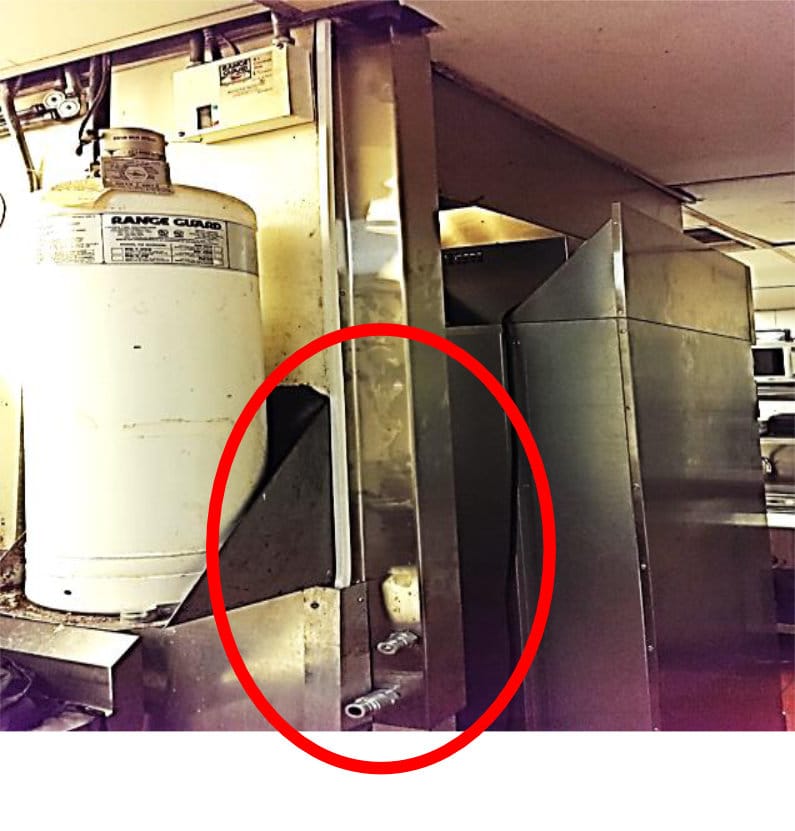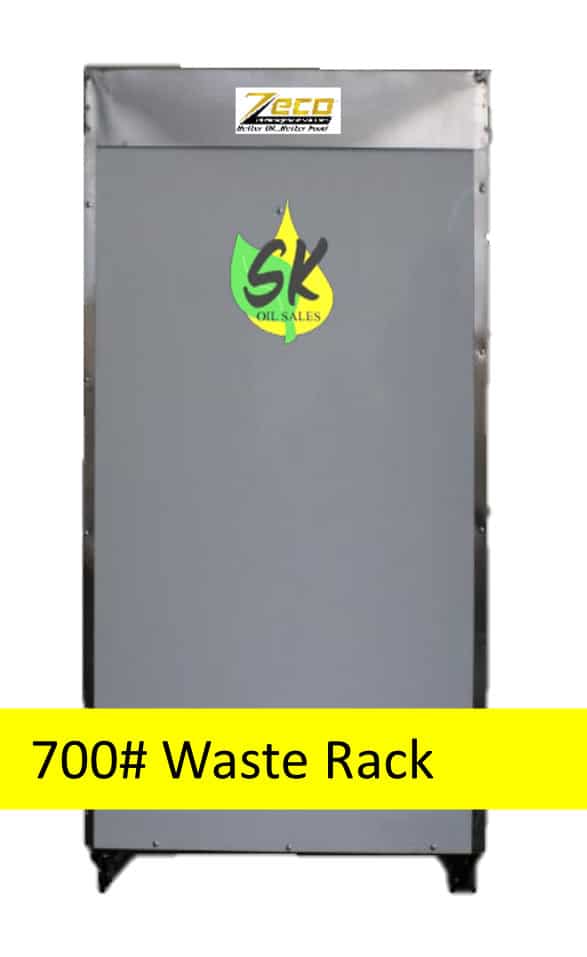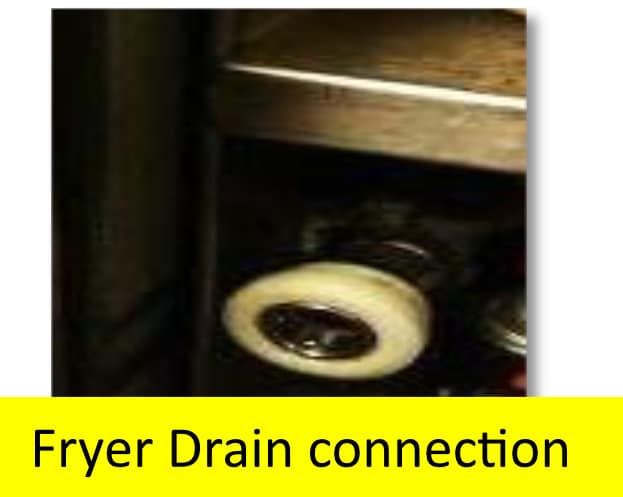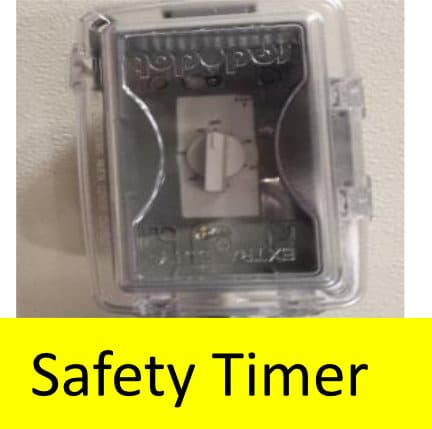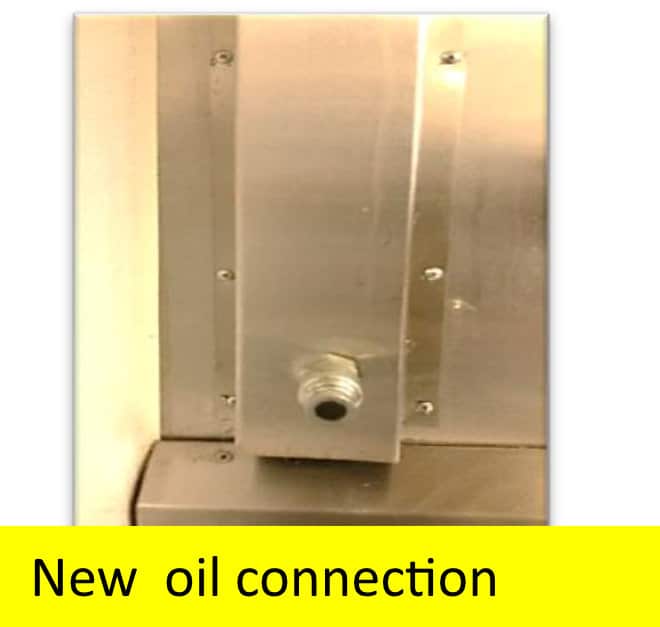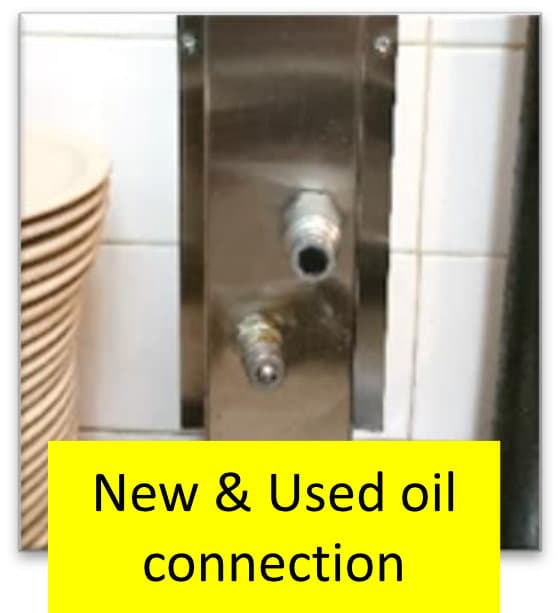 Racks can be used with either Zeco® fill or Remote systems for filling new oil and or draining used oil from fryers.

500 lbs - Used Oil
New Oil Tank - 500 lbs capacity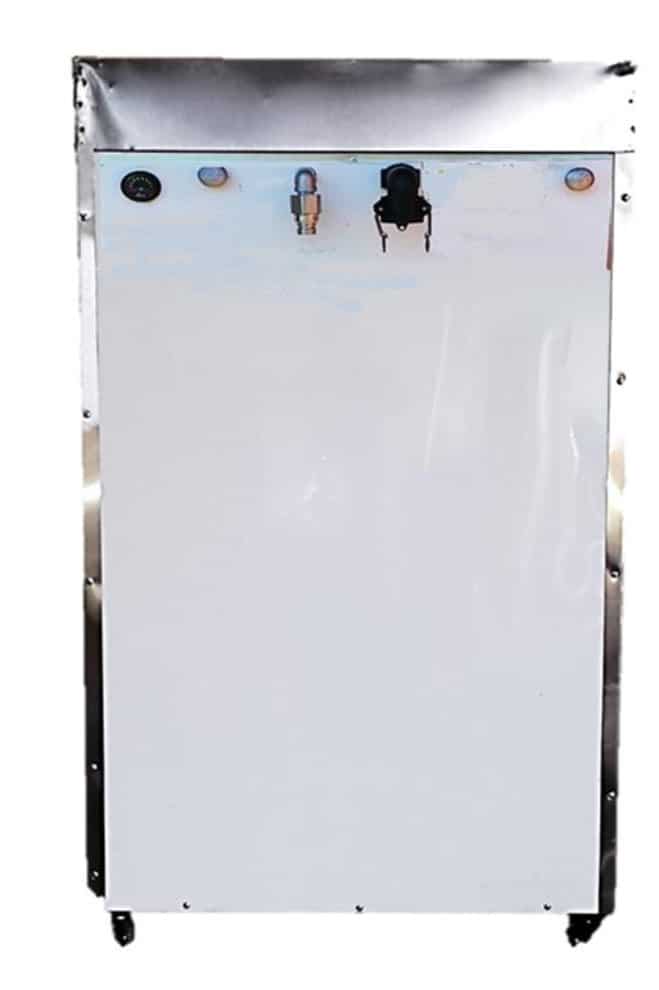 New & Used Oil Rack System
New Oil Tank - 500 lbs. capacity
Used Oil Tank - 500 lbs. capacity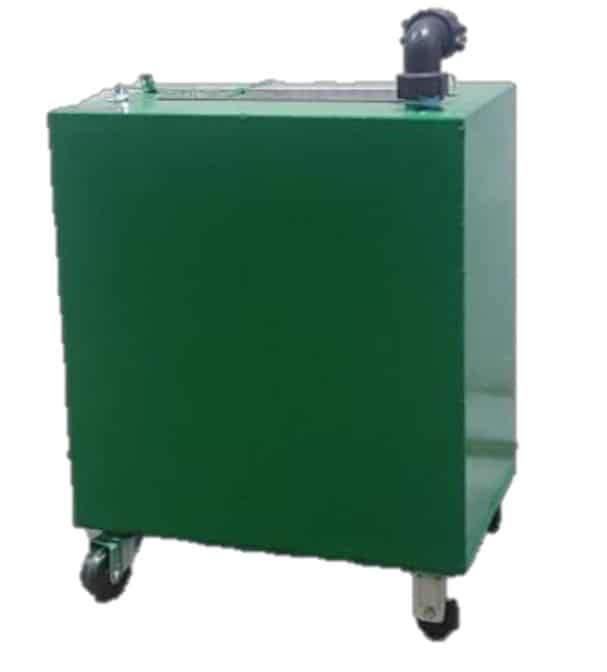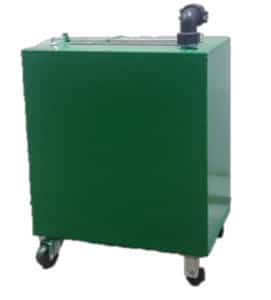 Shorty Used Oil Only
Used Oil Tank - 350 lbs capacity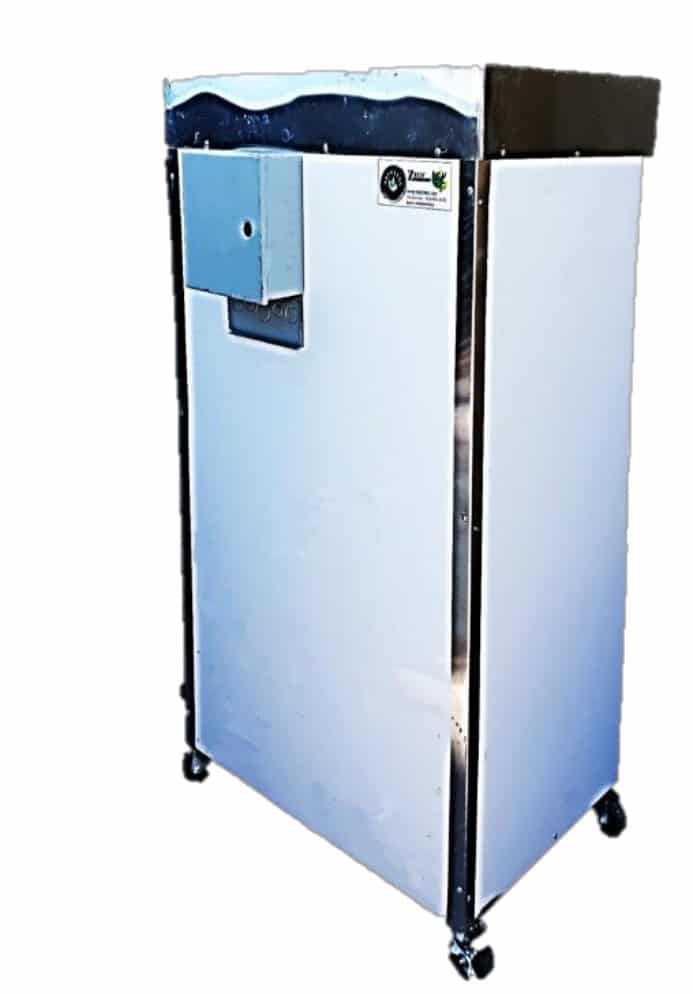 Twin Oil Rack System
New or Used Oil Tank - 1000 lbs. capacity
Installation Hoses & Coverings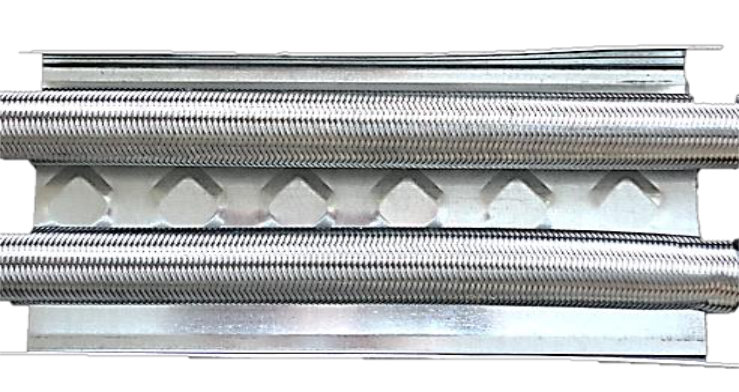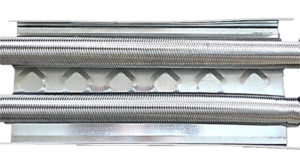 Stainless Steel Braided Hose
Stainless steel braided hose Teflon lined
High temperature rated
C-Channel covering
Food Grade hose
Smooth low
Friction bore for high flow rate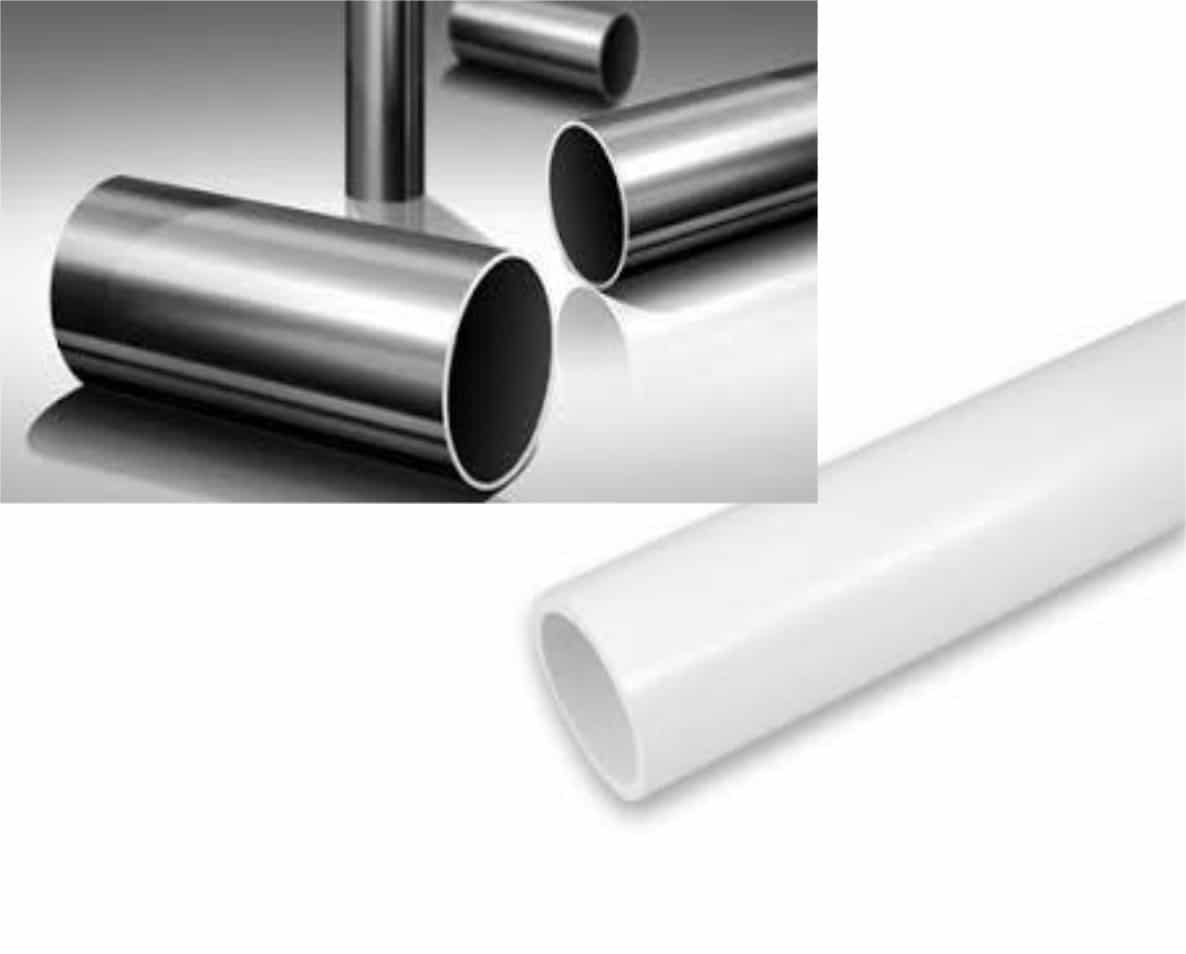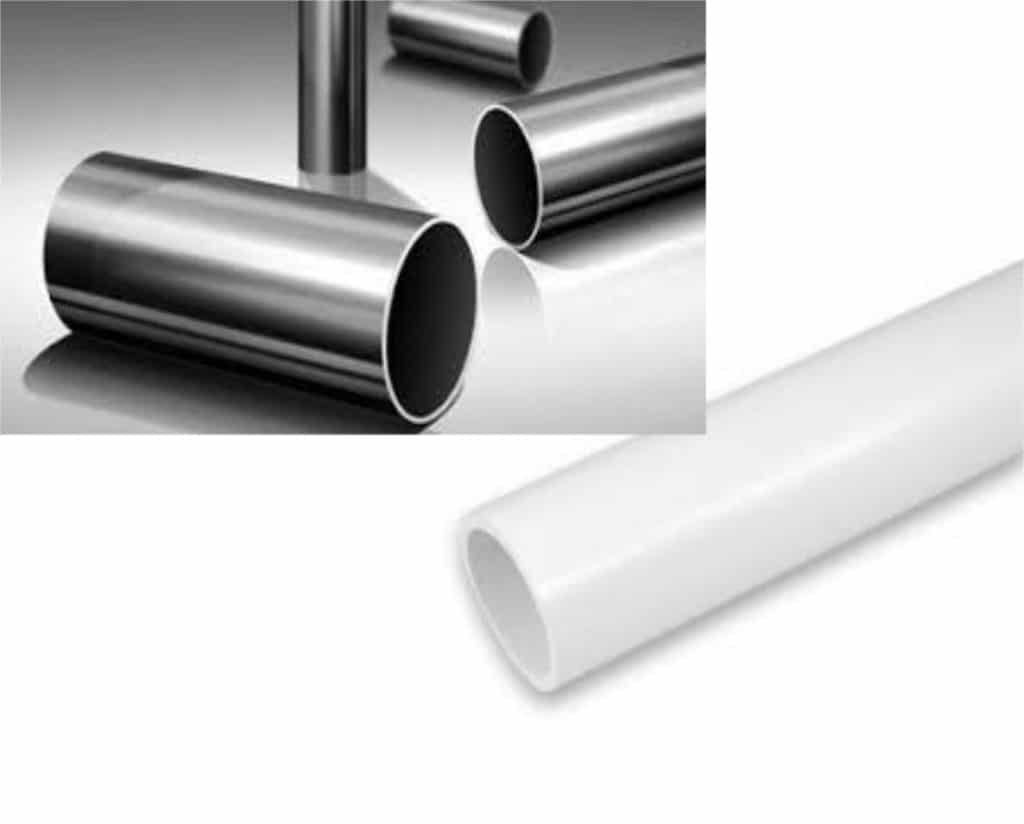 Food Grade Piping & Fittings
FDA stainless steel pipes & fittings
FDA PVC pipe & fittings
Food grade connection & clamps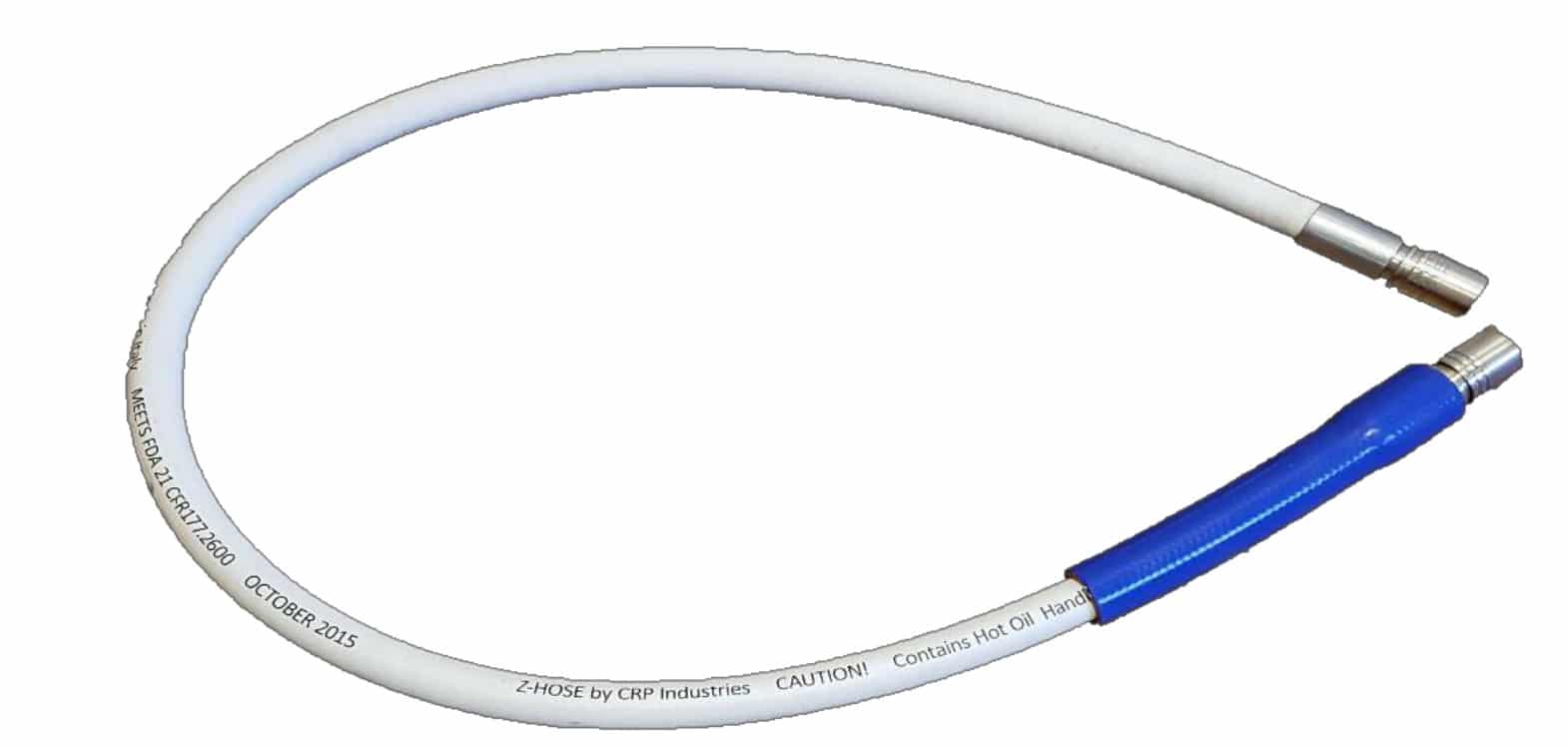 Z-HOSE Features
High temperature cooking oil hose
Durable with minimum weight
FDA Compliant
3 year factory warranty from cracking and
Delamination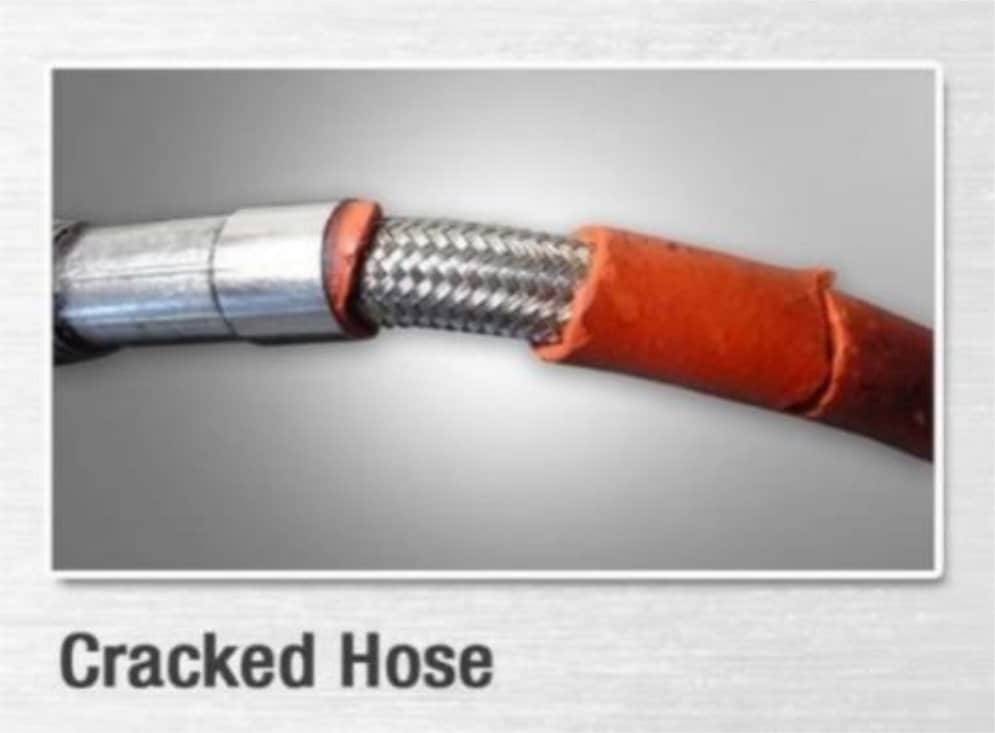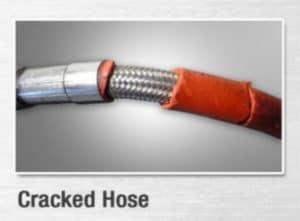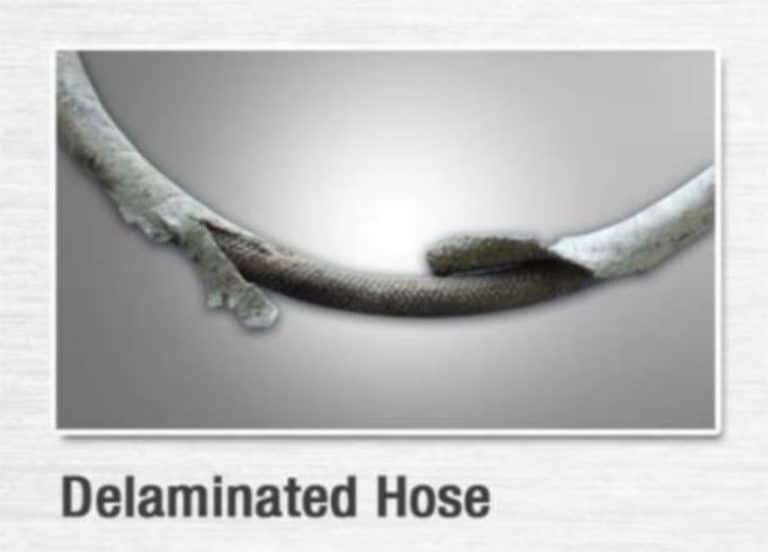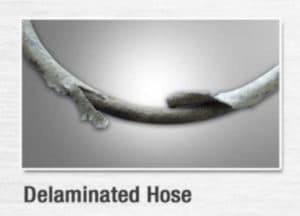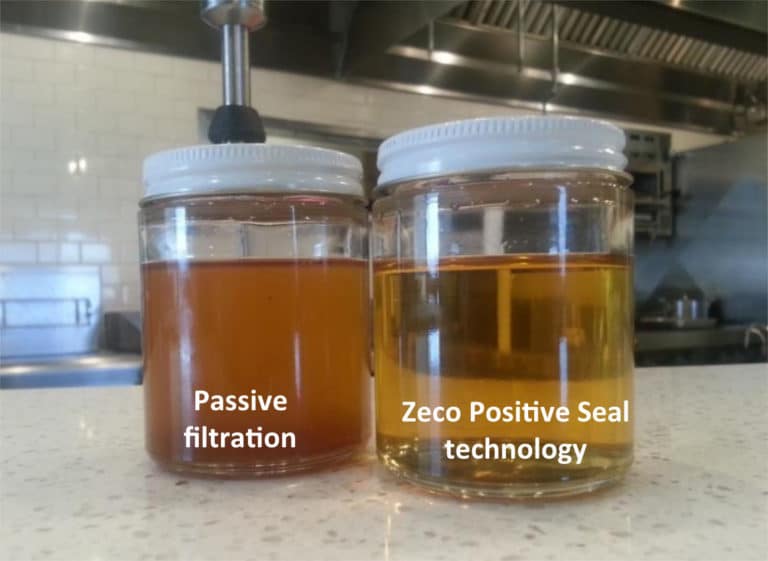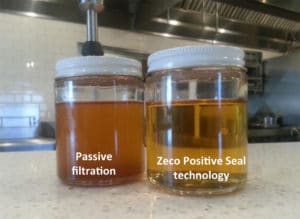 Oil Filtration Testing at Large Oil Manufacturer Test Kitchen
See the Zeco® difference!
This test was conducted at a large oil manufacturing test kitchen. The oil was first filtered using a "Passive" filtration system. It was then filtered with the Zeco oil filtration system and its patented "Positive Seal" filtration technology.
The Zeco filtration system removed the finer micro particles the Passive filtration system left behind, thus resulting in a cleaner & clearer. (No powder cleaners or oils used)
The cost of the Fryer oil is typically one of the largest cost component in a frying program. That makes it all the more important to maximize its useful life.
By using Zeco patented technology and adopting good oil management practices, Operators can extend the useful the life of frying oil by a significant amount.
Zeco® Oil Filtration
Not all filtration machines are the same
Stock pots & coffee cone filters were the main stay for years. Today we see everything from built in filtering systems to even ones that sit inside the fryer oil.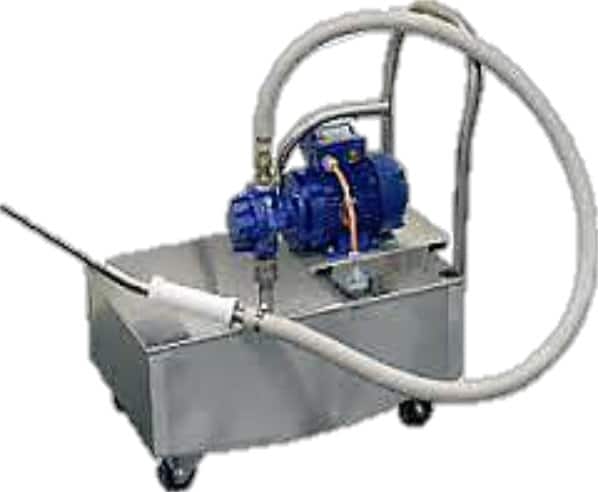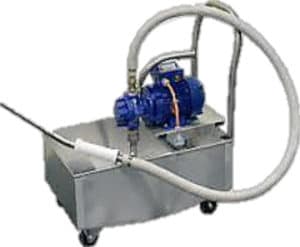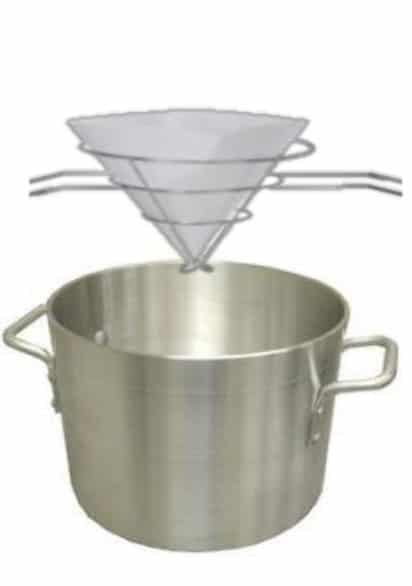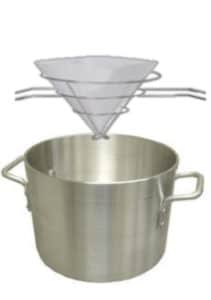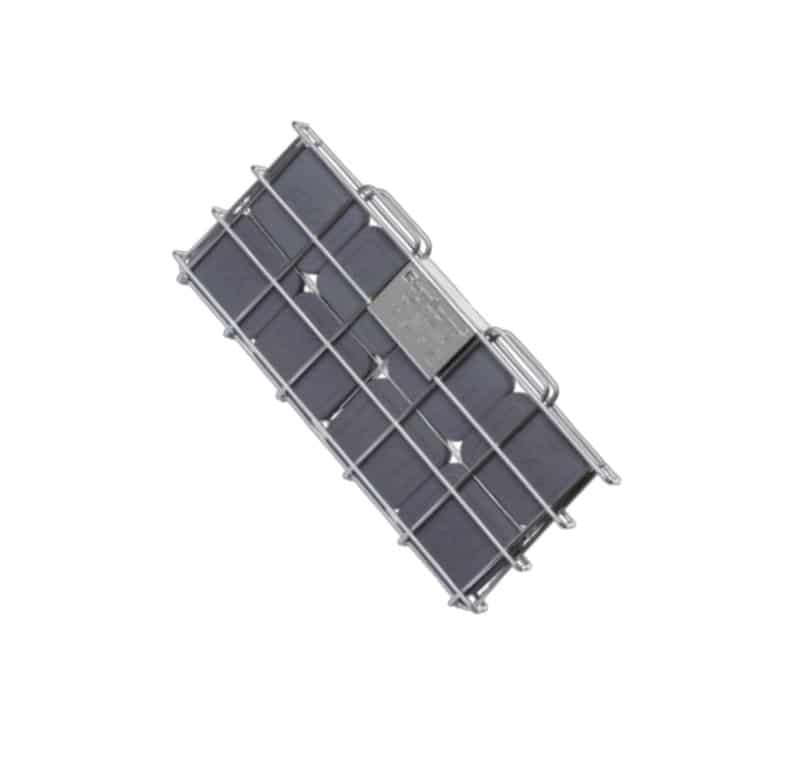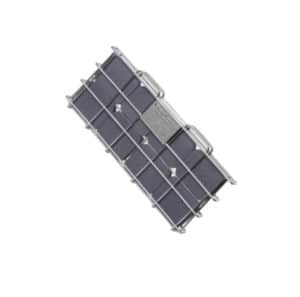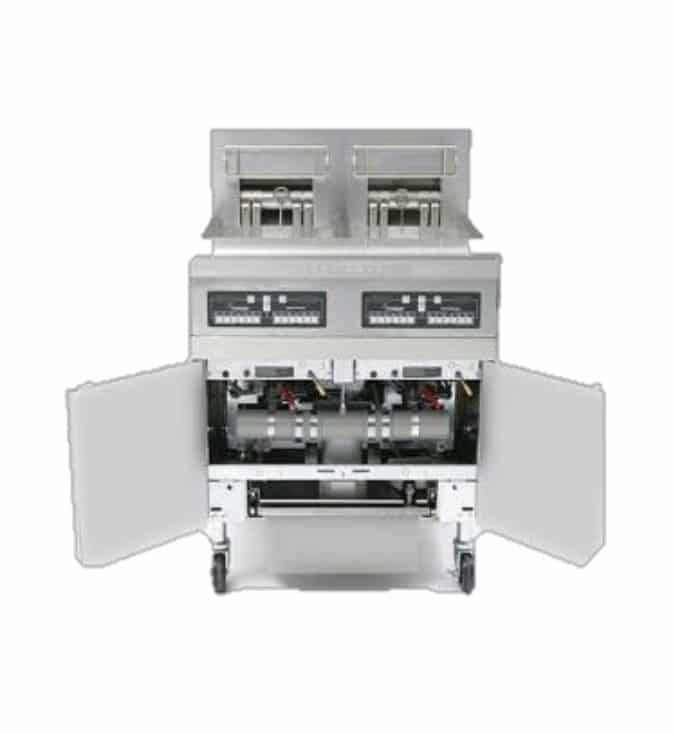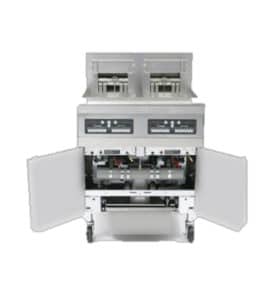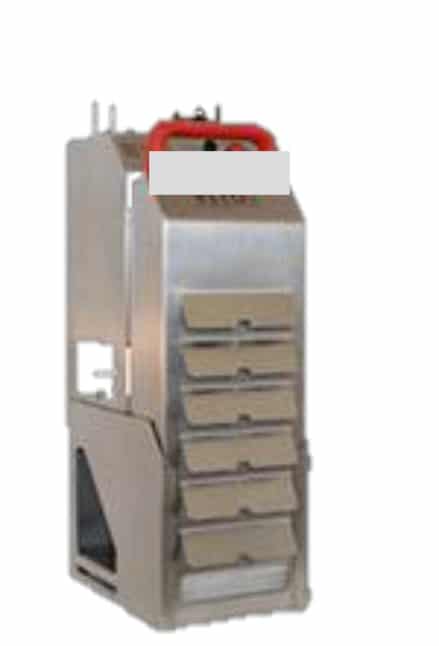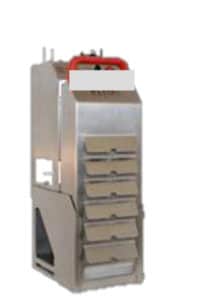 Unlike the others…
The Zeco is the only Micro filtration system that has a Positive Seal to removes fine micro contaminates in the oil, prolonging the oil life and at the same time will NOT sacrifice the quality of the end product to valued customers.
Let's take a closer look at why the ZECO® is different!
Others Use Passive Filtration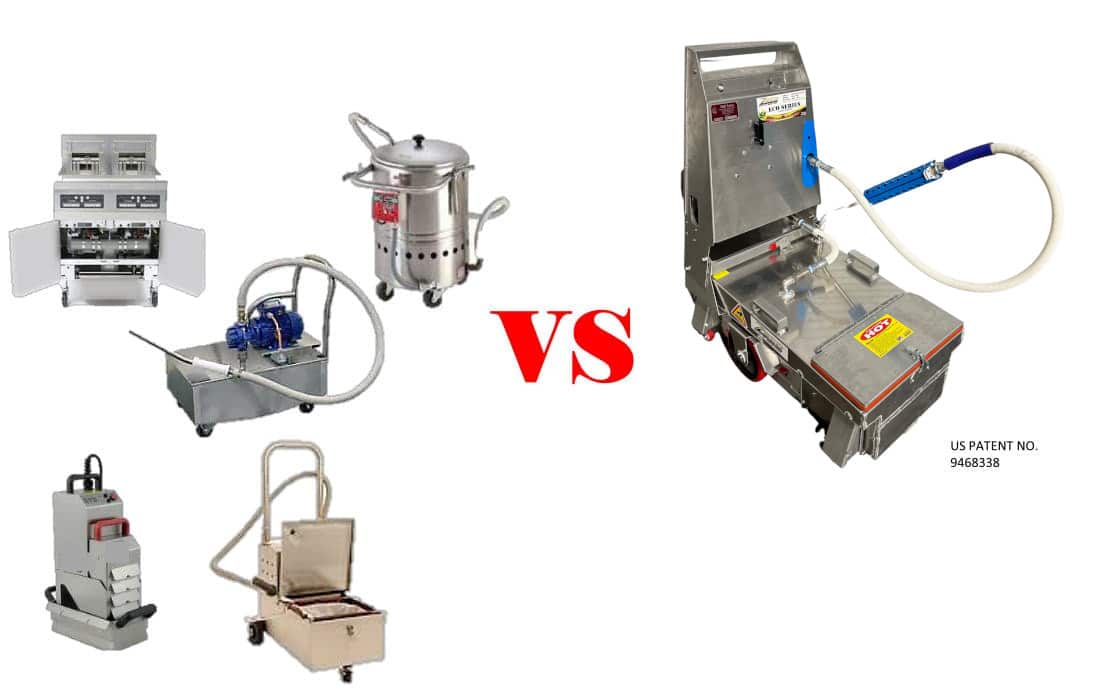 Zeco® Uses Positive Sealed Filtration
Zeco® Positive Seal Triple Filtration System
Patented Triple POSITIVE SEAL filtration technology available only with the Zeco Eco or Pro 3


STAGE 1: Pre Screen Micron Filter Basket:
The first pre-screen filter will remove larger food particles in the oil that clog other oil filter machines .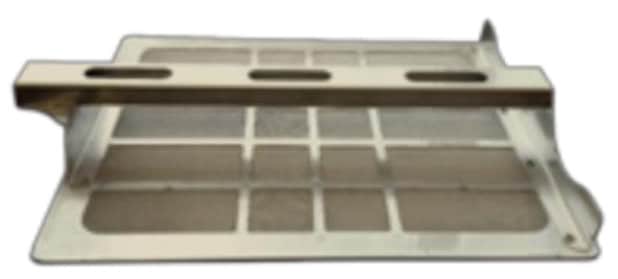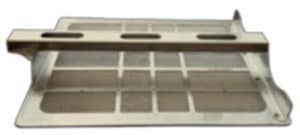 STAGE 2: Micron Handle Filter:
Filters finer food particles will get caught in the Handle filter, further removing the smaller micron food particles that remain in the oil being filtered and before going to the Pad filter.


STAGE 3: Micron Pad Filter:  (Other filters types available)
When the oil goes through the progressive pad filter, it is pulled through the pad filter and through the Zeco 's patent pending Positive seal technology.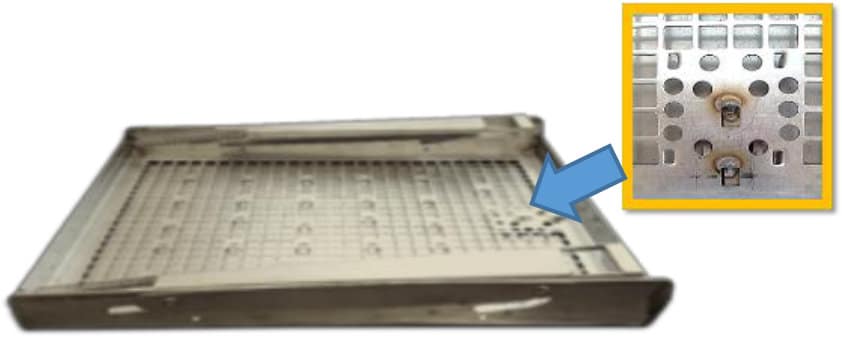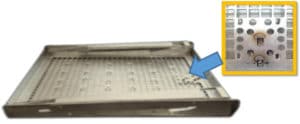 Positive Seal Filter Pan:
Once the oil has gone through the above 3 filtering stages, only filtered oil will pass through the filter pan's positive seal design . No By pass as in other "Passive" filtration systems.
SETTING THE NEW STANDARD IN COOKING OIL MANANAGEMENT
Food Quality



Quality Oil Testing: Excellence in quality fried food using high quality oil, quantitative oil testing and micro filtering are properly required to exceed customers expectation, market demands and maintain company standard.

Micro Filtration Technology: Zeco® patented triple positive seal filtration removes micro food particles

(contaminates) in your oil that is key to improving color, taste & flavor of your fried foods.

---

Sustainability


Environmentally Friendly Engineering: Zeco® Machines are built with 73% recycled aircraft aluminum for durability & high performance.

Go Green Kitchens Lack of Waste: Used oil is collected for use in other industries.

Energy Efficient: Zeco® Pro Series 3 System is solar powered.

---

Employee
Safety


Zeco® Pro Series: Reduces exposure to touching oil. All parts guarded to prevent accidents & injuries.

Transport Safety: Expired oil moved in locking sealed tank & eliminates the need to carry heavy pots.

Safety Performance Environment: Overall improvement in kitchen and floor safety.

---

Cost Savings


Reduction in Consumption: 30% to 60% less oil usage and reduce box & jug waste.

Risk Management: Reduce Injuries: 61% of Workers Compensation Claims in Food Service related to handling hot oil.

Benefits of Automation: Cost reduction, improved productivity, reliability & performance.
Zeco® 3 in 1 DESIGN
Washes out fryers vats while filtering. This

eliminates using hands & utensils to manually

remove food particles at the bottom of the fryer

vat, saving labor time and increasing employee

safety.
Filters oil by a triple positive seal process that

eliminates food particle by pass. Resulting in

prolonged oil life with cleaner filtered oil.
Transporter (Carrier) Zeco High temperature and

locking tank cover eliminates injuries, spills &

Accidents. Locking brakes also help in stabilize

the Zeco while filtering or when disposing oil.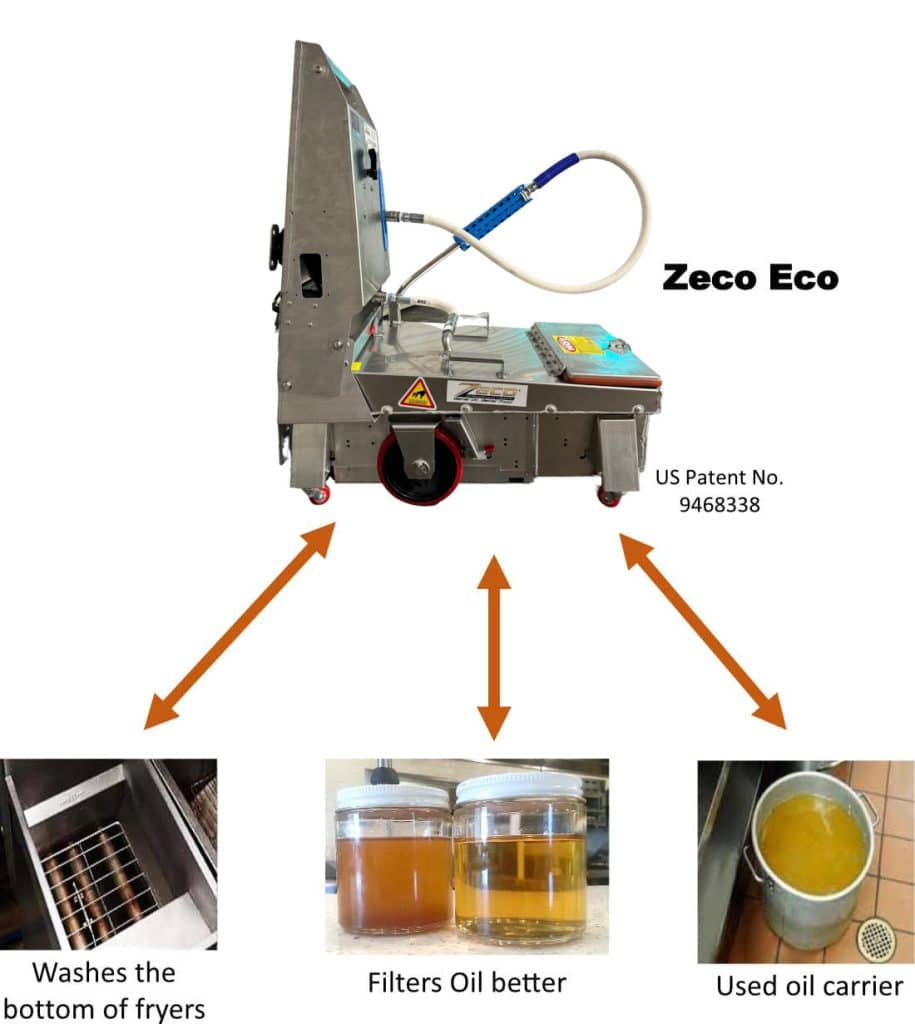 Zeco® Modular Design Platform
 A Unique Design Allowing You To Customize Based on Needs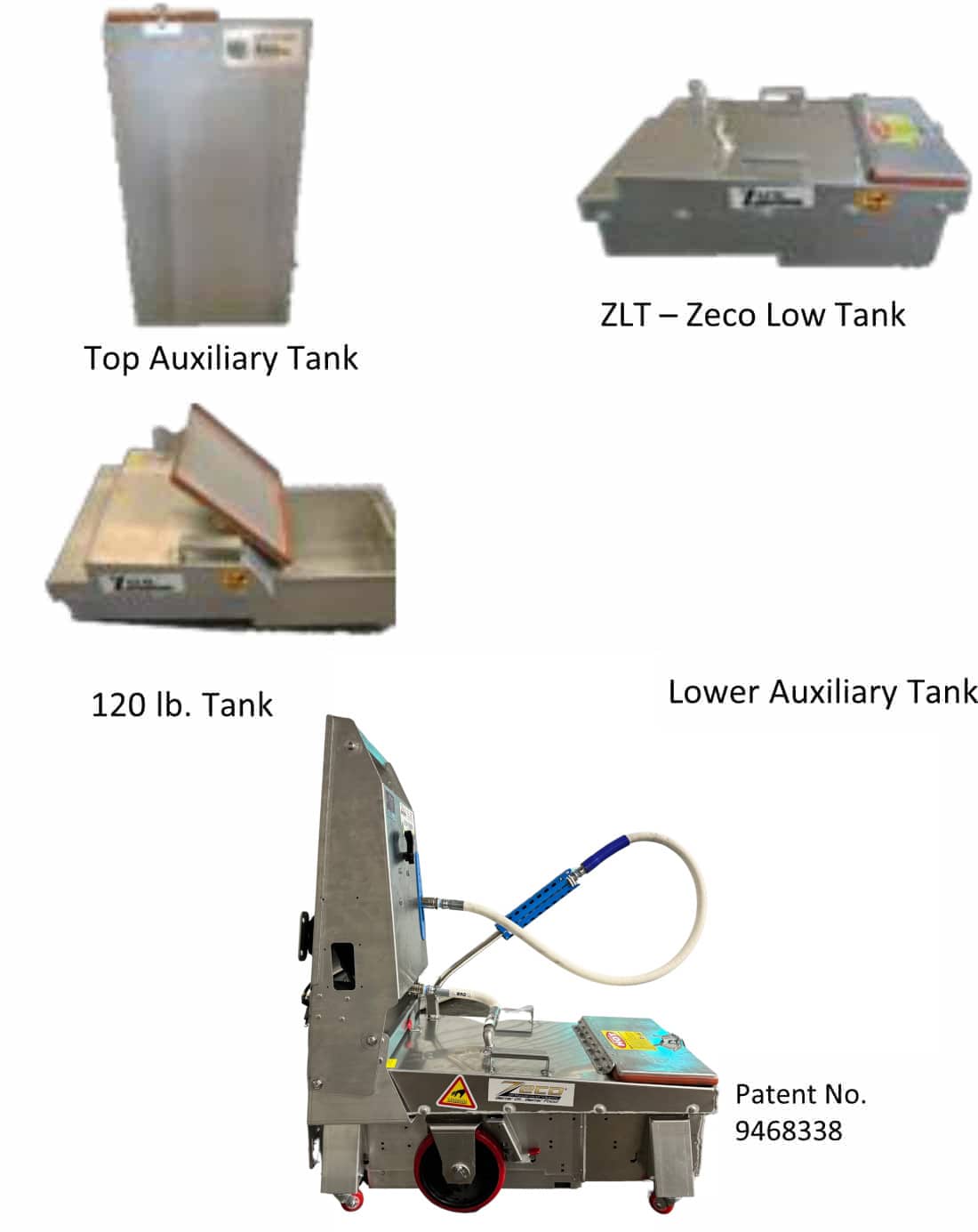 Adaptable connectors made to fit fryers with or without built in filtering.
Inter changeable tank sizes to fit a variety of fryer vat sizes and fryer models
Multiple wheel configurations For different Kitchen flooring or outdoor terrains
Multiple filter combinations - Don't filter like the rest. Get the right filter combination for your Menu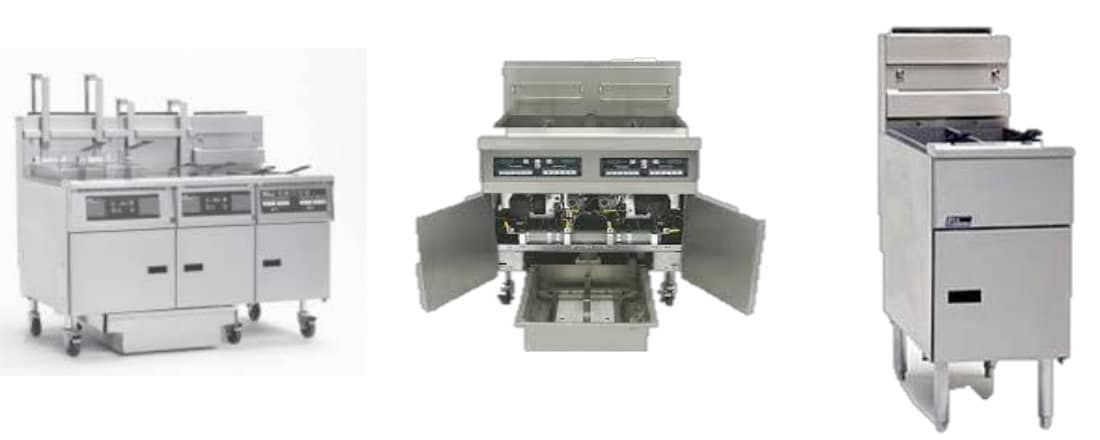 Zeco® Total Oil Management Program Outline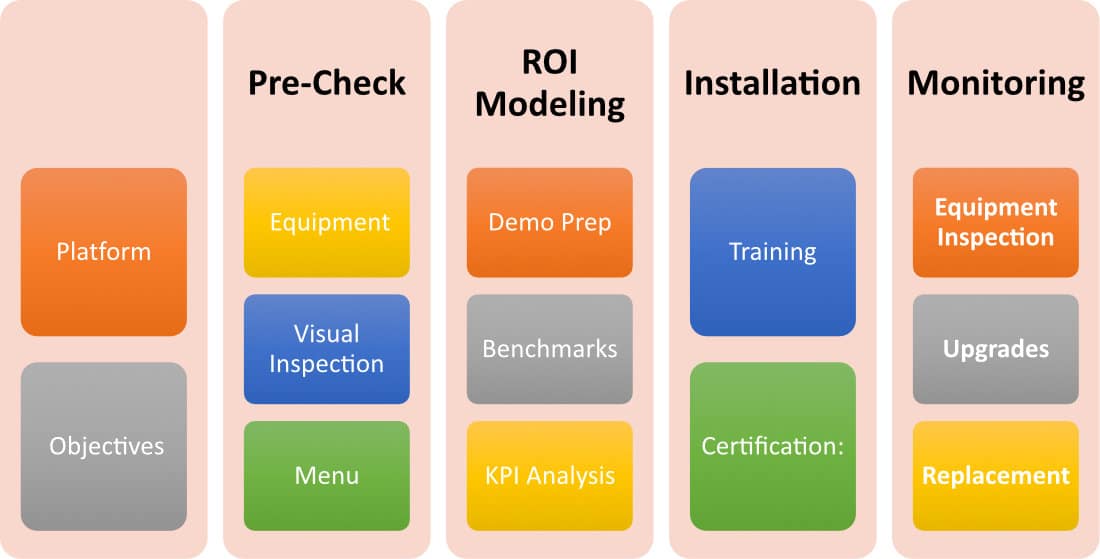 Zeco® Quantitative Measurement - Key Employees
Assist Location Managers to maintain and enforce filtering protocols.
Employee Accountability to filtering protocols.
Train Location managers on Testo 270 use, Readings, and Recording.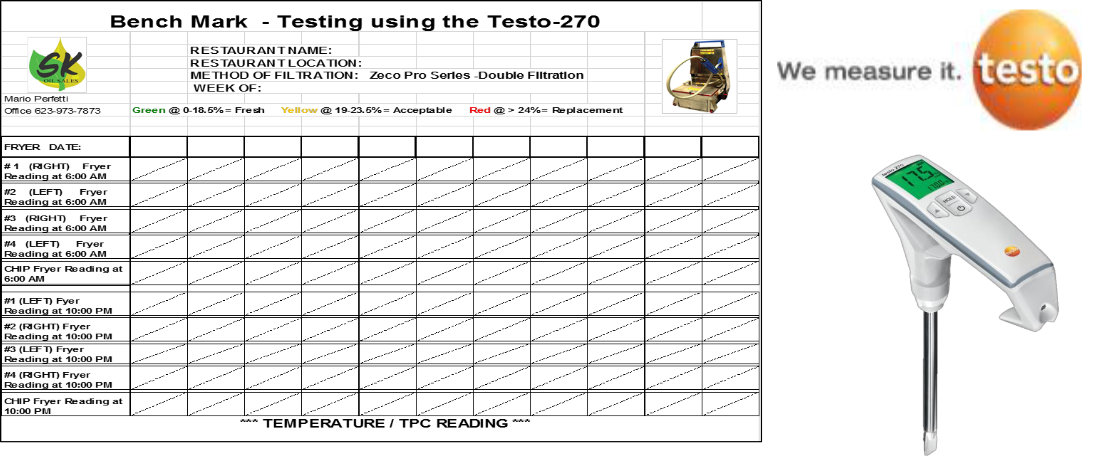 A few of our Restaurant partners

We install Bulk Tanks at each location for efficiency and safety.